Excitement and enthusiasm were the order of the day in the fall of 1980 when the congregation of Calvary Community Church and its pastor, Dr. Carl Godwin, started Parkview Christian School. Under the leadership of Principal Bob Winebarger, the school began as a K-8 school with 60 students. Today, Winebarger lives in Indiana and teaches Bible and History in a Christian School, but he remembers those days with fondness. "Those were exciting, glorious days" Winebarger relates, "as we saw God's Hand moving to provide a Christian School to the residents of north Lincoln."
Within two years of opening, the school expanded and began to offer a fully graded K-12 program. Continuing to expand to minister to families in the Lincoln area, a preschool and daycare were opened in the fall of 1991. A few years ago, Parkview stepped out from under the umbrella of the church and became a separate, non-profit entity. Parkview Christian Schools, Inc. now operates three separate locations for preschool and daycare for young children Although things are operating smoothly now, the school's early history was full of the struggle to be independent from state control. The school initially lost a court battle and was ordered not to reopen in the fall of 1983. This announcement brought an outpouring of prayers and support nationwide from Christians concerned about the overt intervention of the state into church affairs. "Everyone in the field of Christian Education knew what was happening in Nebraska. In fact, I remember praying for this school and pastor during that time, never dreaming that one day, I would be serving as the Superintendent of schools there", Dr, Myers said.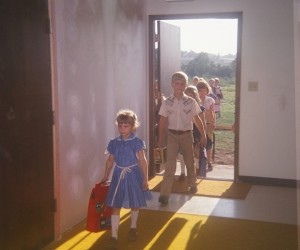 The school went ahead and held classes, and received a stay from the Nebraska Supreme Court until the court could hear the case. During that winter, a study by a task force of the governor's office looked at the operation of the school. A bill was passed by the State Legislature in the spring of 1984 allowing the operation of church and home schools within the state of Nebraska without a government permit. Founded on that principle of religious freedom, and always striving towards excellence in education, the school is now fully accredited by the Department of Education and all of our teachers have degrees in Education at various levels. 
"As a 'tuition-driven' school, our budget is dependent on our enrollment. For us to be viable long-term, we continue to seek out families who desire to better their child's education as well as point them towards gospel centered relationships with fellow students and teachers. Whatever the future may hold for Parkview Chrisitian School the team here will continue to develop relationship with our students and seek God to lead us in all our ways.